Artaaj Daily Report
We prefer to talk about our clients than to talk about us but I wanted to highlight one of our daily sunday at Artaaj.
Sundays are always hectics as it's our weekly meetings so this morning we started by a Sales Training followed by our usual Sales meeting with numbers, targets etc… Chhhuutt it's our secret ;-).
Then, it's a tradition, we all order food and eat together but one thing is prohibited during this lunch…. talking Business! Everything you want but NO BUSINESS…. Then we have our Minute Meeting during we go through all the projects of the past week ending by a "Make a difference Session" where everyone can say something good or bad about his job, our organization etc…. but of course to improve our services 😉
Well, we have just finished this Marathon couple of minutes ago and everybody is back to his job. And we are really, really busy…. new projects and new campaigns in the pipelines 😉
Just couple of numbers… Biju and Jaya Started Artaaj 3 years ago just the two of them. I joined the Company 10 weeks ago we were 14. Today we are 24 and in two weeks we will be 31!!!!!
The only problem we have today? We can't push the walls of our office and we LOVE IT!!!! Arrgghhh we need to find a solution 😉 No worries… couple of "bright ideas" are already in the pipeline… Trust us!
Enough Blabla! I have transformed myself in The Daily Artaaj Reporter to shoot my team…. by surprise.. Hummm almost ok ok!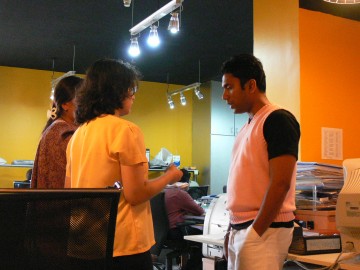 Biju, Kiran and Ashifa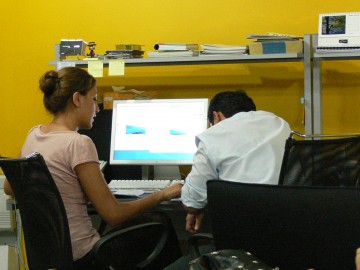 Farimah, our visualizer working with Hadi to finalize a backdrop design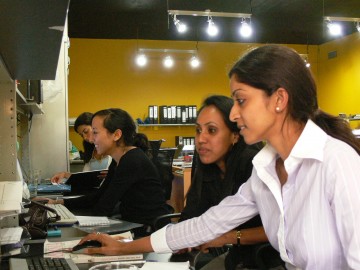 The Dream Team composed by Anu, Molin, Assyah and Rawan… Hope it's your good profile ;-)))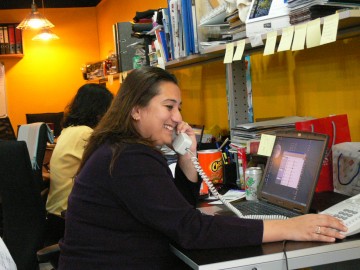 Jaya, our Events Director chasing a supplier
Our Promotion Team led by Kiran brainstorming about the next Campaign
Ashifa with her big smile… But Nooo Flooo I promise, I am clearing my Desk ;-))))))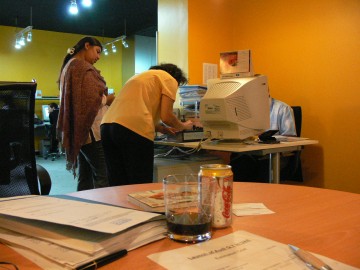 View from my Desk with my daily drug (no publicity ;-)) of Kiran and Ashifa checking an invoice.. But where is Roy ;-)))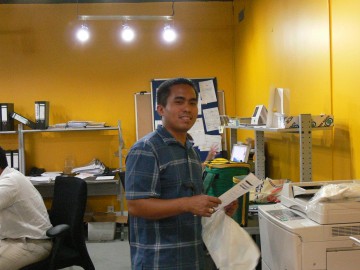 And here is Omar… our smily office assistant, always ready to help anyone…..
And…. the catcher…. caught… couple of minutes later by Arafat ;-)))))