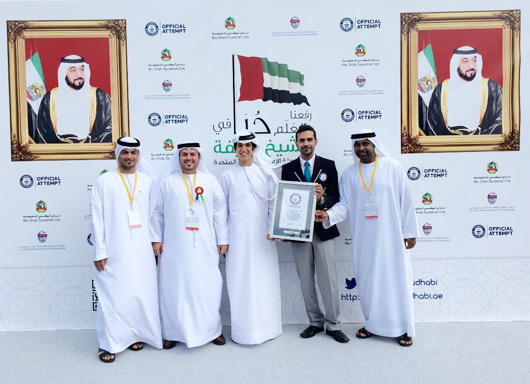 The UAE broke the world record of most people carrying a flag banner with a participation of 2139 Emirati students from the Abu Dhabi Vocational Education and Training Institute (ADVETI), and incorporation with Abu Dhabi Equestrian Club.  Marking the celebrations of the 43rd UAE National Day, thousands of Emirati students walked a span of 230 meters carrying the UAE flag, measuring two kilometers long and five meters wide, at the Abu Dhabi Equestrian Club.
 "The extraordinary feat achieved by our young Emirati students has enabled us to take the country's honor and name on the world map once again," said Dr. Addel Al Ameri, Managing Director at Abu Dhabi Vocational Education and Training Institute (ADVETI).  "This monumental moment that has gone down in our history is a gift to our pride & leader H.H Sheikh Khalifa Bin Zayed Al Nahyan the President of the UAE." Ameri added.
The achievement by ADVETI students smashed the previous record of Italy set in 2011, which boasted of 1,795 participants carrying a 1.797 kilometer long and 4.8 meter wide flag. Officials from the Guinness World Records measured the length and breadth of the flag as well as counted the number of participants, confirming that the record had been broken.
Artaaj events was commissioned to execute the overall event from branding, fabrication of the 2 kilometer long flag and managing the entire event on the whole.