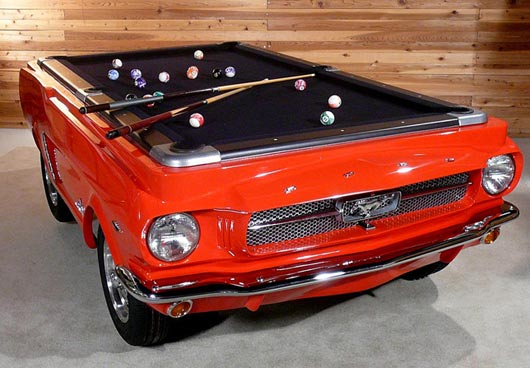 For car gearheads who love to play pool, this offer is simply irresistible. A pool table, embedded on a 1965 Mustang with real lights, bumpers, chrome decals, alloy wheel rims and tires, is ready to be parked in your hall. Big Boys Toys will feature this table, during 16-19 March 2011, at ADNEC, Abu Dhabi.
The unique table is made with a solid fiberglass body moulded from a 1965 Mustang. The length of the car shell has been shortened to fit the table, but both the front and rear ends are the same size as the original Mustang. While it originally comes with the authentic Rangoon Red and coated with real automotive clear-coat, costumers also have the choice of ordering the table in a colour of their choice.
And it doesn't end there. The Mustang Pool Table is actually officially licensed by the owner of the Mustang – Ford Motor Company. The 4'x8' sized table comes with its own 'VIN' number and Certificate of Authenticity.