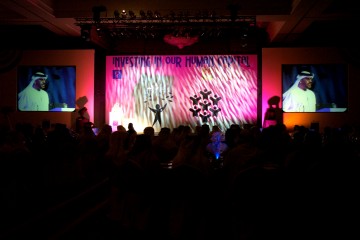 Right on the tails of the Dubai International Boat Show came the prestigious Stephen Covey Seminar that we organized for Etisalat on the 20th of March 2006. Maryam, Ebtisam and Saad, the team over at the Career Development Department were a just dream to work with! Over 2005, they had worked on the Young Professionals Program which was culminating early 2006 and they wanted to create a memorable event to award the 30 graduates who had undergone rigorous training. They were also launching their latest program, Future Leaders, for which they had spent months profiling and qualifying eligible candidates. We were also briefed to create an event to launch this simultaneously with the YPP graduation.
What we suggested was quite different from the events that had been organized traditionally. When we heard that Etisalat was game to try something new, we launched ourselves full speed into giving them a unique seminar agenda. The setting was the gorgeous Joarah Ballroom at the Madinat Jumeira Conference Center where we built a glamorous set with shimmering silver logos etched on.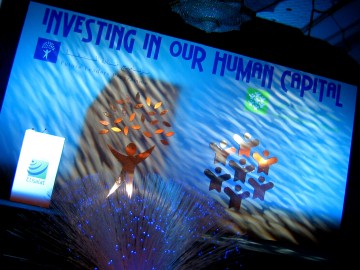 Two projection screens flanked either side and a full service audio visual station was set up at the rear of the room.
Along with sound, light and projection, we also supported Etisalat's technical team who had come in to broadcast the seminar live into four auditoriums across the UAE as well as stream the event live from site. We suggested introducing entertainment into the seminar – Jens, a German aerialist and acrobat who would open and close the show with breathtaking feats with aerial silks.
This was chosen in line with the objective – to leave guests with the feeling that Etisalat believes in "investing in human capital" and that with hard work, one can achieve lofty goals. Of course, the highlight of the day was Dr. Covey who had flown in from the States especially to speak to the 600 guests who had gathered there.
Our role also extended to producing a seamless show, including producing the awards ceremony. Not missing a beat, our watchful team was on hand to ensure that every detail was looked into – from trophies rolling on to the stage to the gift vouchers redeemed at the end.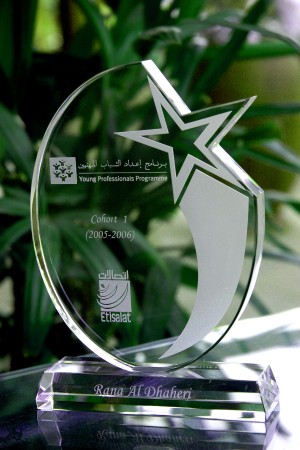 As the afternoon drew to a close, delighted faces all around told us that we had, once again, delivered a successful event! Go team, I'm proud of you!!