Guinness World Record holders '3Run' performs at Big Boys Toys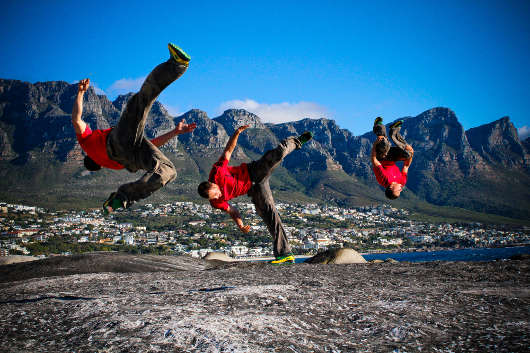 '3Run', one of the world's leading professional performance team specializing in the Arts Of Movement – Parkour / Free Running, Martial Arts & Urban Acrobatics, is set to perform their signature tricks and stunts in this year's edition of 'Big Boys Toys', the highly awaited luxury lifestyle event, which will run from March 16 to 19, 2011 at the Abu Dhabi National Exhibition Centre (ADNEC). The team has over ten years of experience in performing free style running tricks like jumps, somersaults and handstands. Aside from '3RUN', the exciting four-day event will also feature performances of world famous contortionist, 'Lilia Stepanova'; world famous football freestyle duo, 'Billy Wingrove' and 'Jeremy Lynch', with their classic football moves and tricks and breathtaking stunts by world famous stunt rider 'Humberto Ribeiro'.
The '3Run' team has made appearances in blockbuster movies like 'Death Race 2000' and 'Beat The World', and has also appeared in mainstream TV commercials for leading brands like Diechmann, Epson, Nokia, BBC3, Dunlop & Thomson. Each member of the '3Run' team are certified Guinness Book World record holders like Chloe (Most kicks in one minute); Ian and John (Furthest front flips on pro jump stilts over a car); Shaun (Most palm flips in one minute); Cole (Furthest monkey to handstand) and Sam (Furthest double kong vault).