Innovative Mobility Products from Enact Distribution at Big Boys Toys 2012
Enact Distribution is bringing a raft of hereto unseen products to the Big Boys Toys supershow this year. Amongst them are:
Blokart – a 3-wheeled cart which uses a sail and can be packed into a bag and will fit the boot of a car; designed in New Zealand by Paul Becket as a recreation product for entire family. Blokart Sailing is a relatively new sport which is becoming more and more popular. The Blokart is controlled using the hands only, meaning that a person's size and mobility are not critical. With required protection, blowing along in a Blokart is very safe.
Katalyst – an exciting combination of Blokart and water to give the ultimate portable sailing experience.
The Katalyst is a lightweight catamaran that packs down small enough to be transported without a trailer. Based on the Blokart ethos of "fun, fast and compact!", the Katalyst is ready to sail in minutes; just bolt the hulls together, assemble the Blokart and fit it to the hulls, rig your sail and connect your steering and one is away sailing! 1. No Trailer; pack all the hull components into the hulls, then load hulls onto your roof rack and with Blokart in the car boot, you are good to go!
2. Face forward pilot positioning instead of the traditional sitting sideways on the windward hull. This enables sailors with limited mobility use this exciting sailing machine.
3. Handlebar steering: 'it's just like riding a bike' means that there's no complicated tiller steering systems to grapple with.
4. Minimal Rigging; using the existing Blokart sails gives the sailor four sail size options with no rigging at all.
YikeBike –a world's first in design, application and technology. Weighing a mere 10.8kg, it is the smallest folding electric bike in the world. With the ability to fold up or unfold in just 15 seconds and travel at 23kmph, it is ideal for the crowded cities. Beautifully designed, functionality and versatility is embellished by great design. Using the latest construction technology and materials, every component is produced and then tested to ensure maximum durability.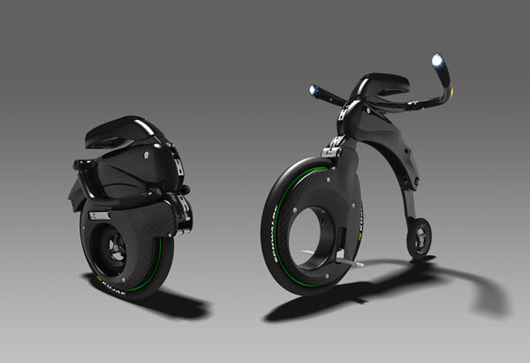 Folbots – are assemblable kayaks made from aircraft quality aluminium which makes frame is strong and light. The decks are waterproof and UV resistant and the Hypalon-coated hulls are waterproof, extremely tough and durable. Together they form an eye-catching combination that almost never fails to draw a crowd when being assembled. With lifetime warranty these come with small and large cockpits and the German design quality is evident in every model.