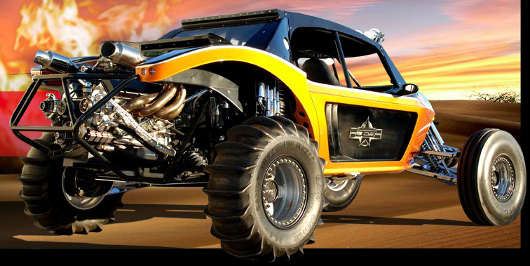 LRC (Lehmen Race Cars) Off-Road Engineering, a joint venture that draws on more than 37 combined years of off-road racing and fabrication experience, is joining Big Boys Toys Exhibition, during 16-19 March in ADNEC Abu Dhabi. The company offers customized dune buggies for sand race or recreational vehicles. It promises to exceed customers' expectations, even for most demanding drivers and thrill seekers. Sketch your dream sand dune machines and tag it LRC.
Working with passion, LRC designs the vehicles using the state-of-the-art high tech 3D software and test each part virtually before going to actual production. It ensures the strength, form, and function of the parts meet the requirements. After design work has been completed, the individual parts are laser cut and machined from the lightest and strongest materials known to man. Aluminium, Titanium, Carbon fiber and 4130 Chromoly Steel are standard in all LRC Off-Road Engineering race and play vehicles. F/911 and aircraft grade hardware in combination with a beautifully "TIG" welded 4130 Chromoly Steel chassis makes all their vehicles incredibly strong, safe and reliable.
For perfectionist off-road enthusiasts, LRC Off-road Engineering is the answer to their distinctive needs.
Very similar to out race winning "class 10" car, the LRC Off-Road Engineering "2 seater" sand car is an absolute blast to drive. The power plant (starting at 450 HP) will have you popping "wheelies" and flying trough the air jumping from dune to dune in no time. Back on ground, the LRC Off-Road Engineering suspension feels like a massage to your senses as you will not believe how smooth the ride actually is.