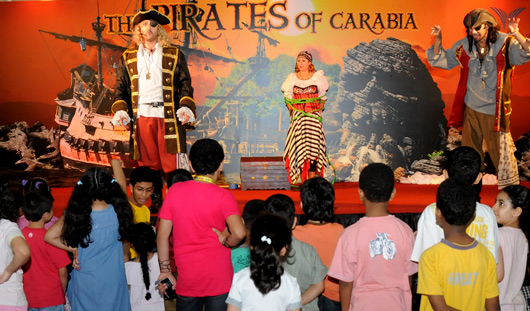 Artaaj was commissioned by the newly-opened Mushrif Mall in Abu Dhabi for its Eid celebrations activities from 30th August till 5th September.
Considering the major constituent in Mushrif Mall visitors was families, Artaaj was charged with designing a set of programmes which would amuse the children.
Pirates of Carabia was born thus. A finely-scripted, humour-laden pirate tale which fully involved the audience, especially the children, the show had everyone cheering the dancing and singing pirates.  Much to the amusement of the children, four times a day, the treasure chest after much ado was opened to reveal a trove of candies!!
As unprecedented crowds thronged Mushrif Mall over the holidays, larger-than-life mascots and cartoon characters mingled with them, tickling the children's fancy. The Rabbit, Hamdoon and Jalabiya danced with the visitors, had about million photos taken with them, and made the atmosphere lively.
The MC added to the gaiety, inviting the children on stage, swinging them around, and leading the games.
.