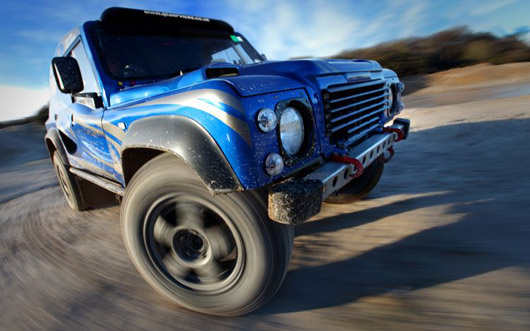 Wildcats are soon to attack UAE! Joining many other such beasts, the fastest off-road vehicle is going to be part of the Big Boys Toys Exhibition, at ADNEC Abu Dhabi, 16-19 March 2011. Don't be fooled by its cute look, there's some seriously tricked technology under the hood – it masters impossibly rough lands, pirouettes in the air, and skims like a roller-coaster speeding through the mud.
QT Services, the manufacturer of Wildcat, offers the series starting with the 300STR, which is a dual purpose, street-legal competition car with lifestyle-purpose custom upgrade options such as air conditioning, hi-fi and even a golf club compartment.
Next up is the 400NSR, a contender for hill rally honours in national events such as the British Cross Country Championship or the French Tout Terrain series. A variety of engine and suspension options are available, depending on the level of competition required. It is built with considerable flexibility, with the options covering entry level to professional team status.
The jewel of the series, however, is the 500DKR, a full-blown rally raid machine, powered by the latest 4-litre Jaguar V8 petrol engine putting out in excess of 285bhp. Chassis, drivetrain, and electronics are fully ruggedized to withstand the harshest raid conditions and options are available to make this car a serious contender for international honours. The first QT-built Wildcat running with the Jaguar V8 was placed third in the recent Pharaons Rally held in Egypt's Western Desert.