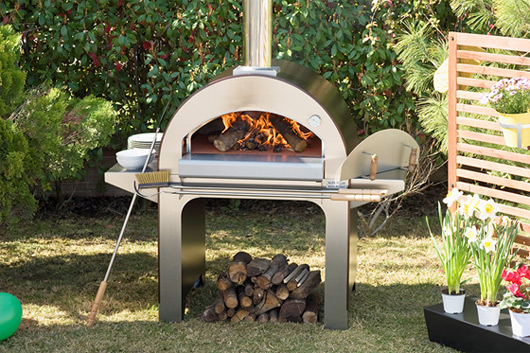 Experience the authentic taste of Italy in your own home as The Outdoor Kitchen Company introduces a range of domestic wood fired ovens, available for the first time in the UAE.
Wood – fired ovens are de rigeur in any pizza restaurant worth its margherita and you'll also find them in many of the world's top restaurants where they are used to roast meat, fish and vegetables and bake bread with that unique wood-fired taste. Jamie Oliver has called them the "ultimate foodie must have" and The Outdoor Kitchen Company is now offering a range designed for use in the garden of your villa, on your terrace or even your balcony; with quality and ease of use to suit the most traditional and modern UAE lifestyles.
The ovens are handcrafted in Italy by a traditional firm who recognize that not everyone has the option to build a traditional clay oven in today's world, yet still wants the ease and unforgettable taste of wood fired cooking. These modern models reach temperatures of 400 degrees in 15 minutes – all from sustainable and locally sourced wood. The ovens cook a pizza in three minutes, but are far more versatile. "We cook everything from fish and vegetables to roasted meat in our oven," says Sarah Bradley, owner and founder of The Outdoor Kitchen Company. "Particular favourites are roasted local clams and shellfish – they take 5 minutes and when cooked on a wood fire the flavour is extraordinary." She has also sought out local producers for great organic vegetables and herbs and is a fan of The Italian Dairy Products Company, a great local mozzarella producer.