National Bank of Abu Dhabi (NBAD), commissioned Artaaj Events to arrange their 40th Year Anniversary celebrations in Abu Dhabi, which included a VIP Gala dinner and a fun internal celebration.
The first event was held at the Emirates Palace lawns, in a presidential marquee. Arriving guests were greeted by hostesses who led them through a grand red carpet entrance. On entering the marquee guests were greeted by an array of lighting effects, lavish table décor with gilt Chevari chairs, with the highlight being the stunning stage, decorated with stretch fabric draping, illuminated to the various moods of the evening.

The high profile event saw nearly 600 attendees with HH Sheikh Mansour bin Zayed Al Nahyan attending as the special guest of honour, and keynote speaker former US President George H. W. Bush. All in all an extraordinary panorama to celebrate the extraordinary achievement of the National Bank of Abu Dhabi.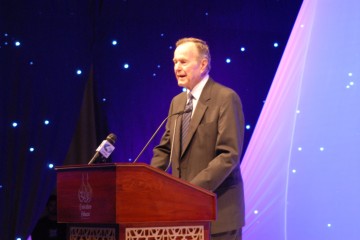 As the festivities continued the following evening, NBAD wanted to commemorate such an achievement with the people who helped to make it all happen. NBAD staff, colleagues and friends were invited to the Beach Rotana Hotel & Towers where they were entertained by a world renowned illusionist, had a spectacular cake cutting ceremony, followed by dramatic confetti & balloon drops to put them in the mood for a truly high octane evening.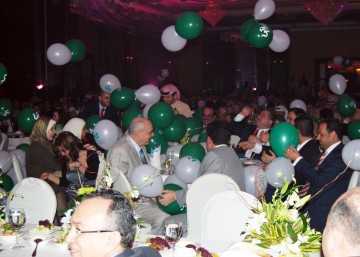 Party games were played, and raffle prizes were on offer with a top prize of AED 40,000 for one of the lucky invitees. Artaaj again transformed the venue with special sound & lighting effects, setting the scene which ensured all partied on till the early hours of the morning.