Exquisite platinum & gold suits made with Vicuna, Pasmina & Qiviuk, the finest wools in the world, to launch in Abu Dhabi, with the unveiling of the World's Most Expensive Suit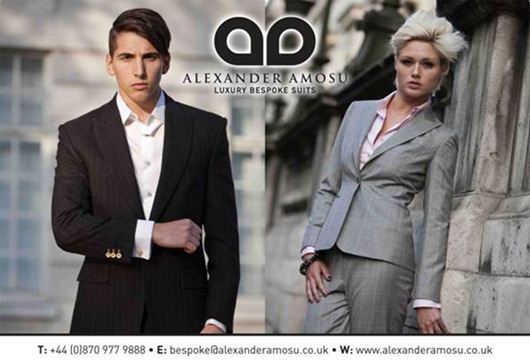 Alexander Amosu, luxury designer to the rich and famous and founder of Amosu luxury & customised mobile phones is to launch a luxury bespoke suit collection called 'Alexander Amosu'; featuring suits made with gold & platinum threads, rare cloths and precious stones. As part of the service Alexander and his tailors will travel to clients anywhere in the world in order to take measurements and fit the suits, this service is exclusive to Alexander Amosu and is not offered by any other tailors.
Collaborating with Dormeuil, purveyors of the world's finest fabrics, Alexander Amosu is due to unveil the first 'Alexander Amosu' suit line and the world's most expensive suit during formula 1 week in November
The World's Most Expensive Suit will cost £70,000 and will be a one-off creation made from gold thread, Himalayan Pashmina, Qiviuk and Vicuna. Each suit will be a work of art and will take in excess of 80 hours to complete and will include over 5000 individual stitches.
Fabric
Using the world's most luxurious fabrics is paramount to the quality of Alexander Amosu. One such fibre is Vicuna; a rare wild South American Camelid which only produces enough wool for shearing every three years. Another fibre used in the collection is Qiviuk; the world's most expensive wool, gathered from the Arctic muskox, which sheds its coat once a year. Together, blended with Pashmina from the high mountain plateaus of the Himalaya's they create the world's most luxurious cloth: Vanquish II. Due to the rarity of these fibres and the care which is taken to safeguard the well-being of the animals that produce them (these animals are not hunted but cared for in their natural environments), only enough wool can be gathered to make 300 suits in the world. Other exclusive fabrics selected by Alexander Amosu include Kirgyz White and Pashmina blended with the rarest silks.
Lifestyle
The addition of nine 18 carat gold and pave set diamond buttons complete the suit, which is said to move with an unmistakable fluidity. As well as the detail within the suit, customers who indulge in the Alexander Amosu collection will immediately reap the rewards of the luxury lifestyle that accompanies their purchase which include a 1 hour flight by private jet to anywhere in the world by Cloud9, 1 year free wealth management from Cheviot Asset Management and a 24 hr Global Concierge service.
Tailoring
Alexander Amosu will offer discerning clientele the ultimate in bespoke tailoring. A highly trained tailor with over 20 years experience will craft each suit by hand. The Alexander Amosu commitment is for each suit to be a work of art created using only the finest fabric and dedicated workmanship. Bespoke suits are available for both men and women alongside luxury bespoke shirts.
One key element to Alexander Amosu is the timing in which the final product can be measured, fitted and created. With clients increasingly time poor, creating the perfect suit in a professional, convenient and swift process is hugely important. Alexander Amosu offers a process which, from measurement to fitting can be completed in only two days. Following an initial measurement the client is visited as soon as the very next day, by the tailor, where the fitting will be carried out. The only further meeting needed is that to make any final alterations. All of this can be carried out in the client's home, anywhere in the world. This service is something that no other Savile Row tailor can offer, making the Alexander Amosu experience not only the best but the most seamless available.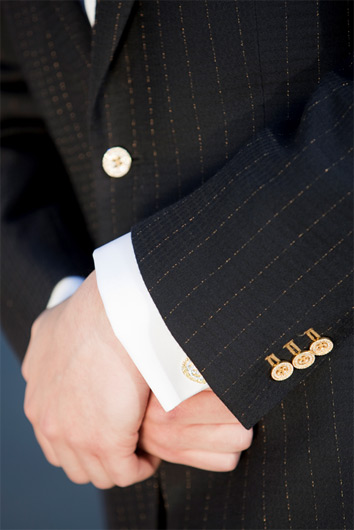 Cheviot Asset Management
Cheviot Asset Management will offer the purchaser of the World's Most Expensive suit a consultation with our investment professionals and have investment funds managed free for one year. Normal management fees are 1% of funds managed; someone with £1-5 million being managed by Cheviot will save in the region of £10,000-£50,000 in fees.
Cheviot Asset Management is one of the UK's largest, fastest growing, independent investment firms, employing in excess of 100 professionals from its Covent Garden base in London and manages in excess of £2.2bn of client funds. With specialist teams that work with clients from sports, media & entertainment, entrepreneurs professionals have a wealth of experience when it comes to understanding the challenges faced by their clients, on average having in excess of 20 years investment experience.
– Ends –
For further press information on Alexander Amosu please contact
Leslie Kellner Taylor Big Machine Media, Phone – 646-395-2600