Artaaj had been commissioned to propose a series of activities that would be part of the launch of Chocolate, the new phone that promises to revolutionize the LG mobile business.
We proposed a comprehensive consumer promotion program which includes:
Mall Road-show
Consumers are being targeted via road-shows at popular malls such as Deira City Centre, Mall of the Emirates and Marina Mall in Abu Dhabi
Viral marketing
Consumers are invited to send a 'sms' to three friends and win instant gifts
Demonstrations
Artaaj trained promoters dressed in designer outfits invite consumers to check out the features of the new phone. They encourage them to touch and feel the touch pad on the phone and educate them on the stylish design and new technology.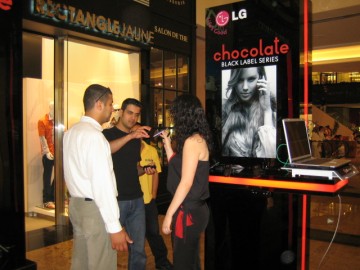 Electronic Draws
Consumers register on the Wow LG website and get their name into an automatic electronic draw.
Raffle Draws
Consumers fill a raffle coupon and drop into a raffle box at the stand.
The various activities we managed and executed are:
• Arranging tie-ups with the malls and acquiring suitable space
• Procuring relevant government permissions for various economic activities as well as permission for the road-show
• Arranging internet connections at the malls
• Hiring and training suitable 'Chocolate' promoters
• Designing and executing stylized costumes for the promoters
• Designing and constructing the Chocolate display stands to be used at the dealer conference
• Managing vendor for constructing the raffle boxes