It was an honor and a pleasure for us this week to organize the Press Launch for the prestigious Saadiyat Island, appointed by Bates Pangulf. Abu Dhabi's flagship 100bn Dirham project was revealed by His Highness Sheikh Mohammed Bin Zayed Al Nahyan, Crown Prince of Abu Dhabi, Deputy Supreme Commander of the UAE Armed Forces, at a press conference at the cavernous Emirates Palace Hotel in Abu Dhabi.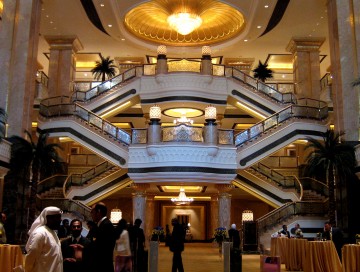 His impending arrival had successfully generated butterflies in all of us, even our normally unfazed CEO, Biju, who had driven down especially for the occasion. Will the DVD play on time, is the red carpet ok, will the Kabuki fall!!!!!!! Well, yes it did, it was ok, and it fell.
We literally executed the project in 5 days including massive branding, décor, sound & light, hostesses (a bevy of 15 no less), and a good deal of technical coordination. Yea team! Kudos to Ashifa for getting us beautiful, well spoken hostesses. I had only about 15 minutes to brief them, and with all of them understanding and grasping their roles, we were able to dispatch them in minutes.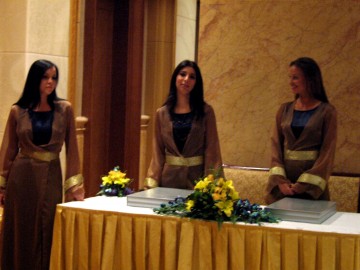 Of course the event gods and powers that be have to play havoc with our lives until the last minute. One of our beautiful display cases, part of a set of 6 filled with the elements of nature (water, sand and leaves) sprung a nasty leak with water spurting out the corners. Where is some waterproof adhesive when you need it? Flo swooped down on it as she does with some electric tape, but alas, the water was not to be interrupted. With a puddle rapidly forming on what surely must be ridiculously expensive carpeting, Molin saved the day by suggesting we switch cases. It worked, what we would have done if they were all leaky, I don't know. One crisis averted, we didn't quite know which way to look when our water, supposed to be blue, started turning a rich violet…
Of course!! we intended it to be that way!!
But, finally the pieces all came together and a seamless show was executed. It was an exclusive gathering of world media and VIPs.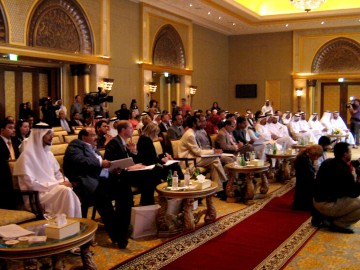 Starting with a speech from His Highness, a wonderful mood film was played, after which His Highness unveiled the model hitherto concealed behind white draping.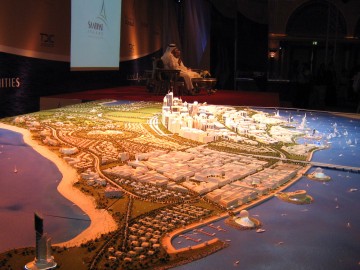 I was watching from back stage cuing Hadi who was directing the stage hands. I couldn't suppress an exuberant smile when the event ended, another well run event from Artaaj