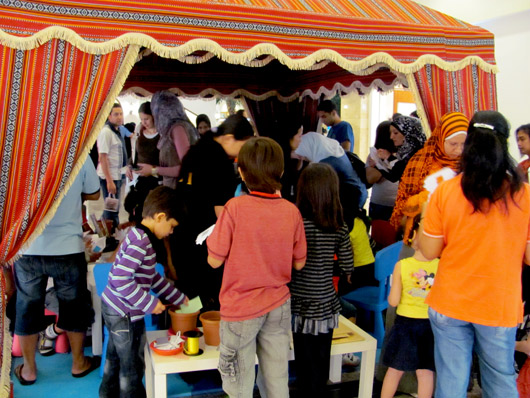 Artaaj was appointed as the turnkey event management agency by Abu Dhabi Mall for their Ramadan Celebrations this year. A grand Ramadan themed display stand surrounded with fun activities will offer mall visitors an engaging experience throughout the holy month. The ramadan activities have kindled the spirit of the season and spread joy amongst the visitors at Abu Dhabi Mall. The strong creative and design team of Artaaj conceptualized the rich theme and aesthetics of the display which has made the venue a preferred destination during Ramadan.
A variety of traditional activities add color and local flavour, be it servings of jalabb and tamarind juice, henna painting for ladies and children, Tannoura dance performances or madeah islameyah singing, through the evening to keep guests and patrons entertained. The children's art and crafts activities conducted by the Artaaj team are among the most popular attractions and include card making, flower making and fanoos making to name a few.
The event is held from 9PM to midnight every night through the holy month of Ramadan and the fun will continue during the Eid festivities as well.