2009 marked the 4th edition of the annual Metamorphosis conference organized for Etisalat's Department of Career Development and Succession Planning. Conceptualized in 2005, the main objective of this annual conference series is to create a powerful networking and learning event between Etisalat and global leaders.
With the theme of "Looking Inward, Outward & Forward", this year's event was held at Madinat Jumeriah's grand Johara Ballroom on Monday, 20th April 2009. Artaaj organized the event from end to end, managing the branding, theming and event production as well as the entertainment component of the event.
The event opened with a spectacular performance by a glitter painter who started off by painting on a black canvas using what seemed to be a clear enamel paint. At the end of the painting, he picked up cans of sparkling glitter and showered them on the painting to reveal a famous image of HH Sheikh Zayed bin Sultan Al Nahyan, the beloved late ruler of the United Arab Emirates, to a standing ovation by the audience.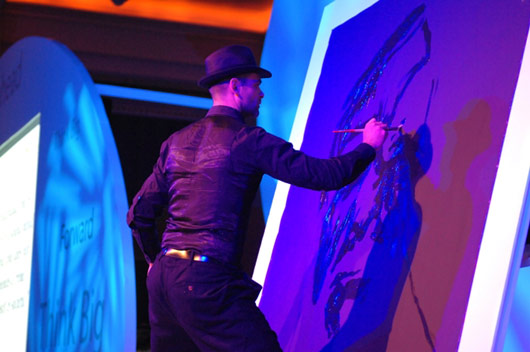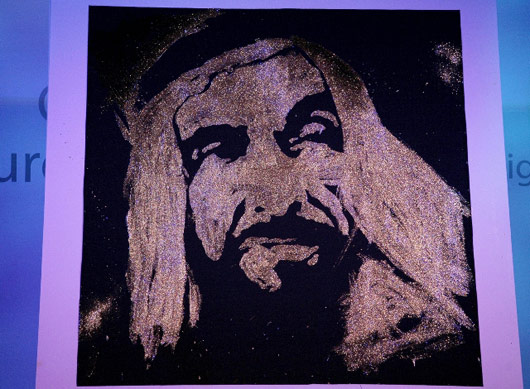 Further speeches from the Etisalat team led to the feature presentation by Dr. Ram Charan, one of the world's leading business thinkers and strategists. The presentation covered the fields of the current global financial crisis and its effects internationally as well as on our regional market and industry.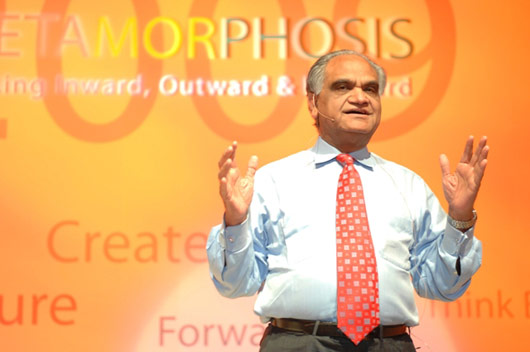 After the presentation came the opportunity to celebrate the graduation of Etisalat's talent pool, among them, the "Young Professionals Programme – Cohort 3", the "Future Leaders Programme – Professional Phase, Cohort 1" and the "Etisalat Strategic Development Agenda – Cohort 1"
Attended by Etisalat's top management, as well as seven hundred of its senior staff and associates, the team is eagerly awaiting the announcement of the 2010 conference!