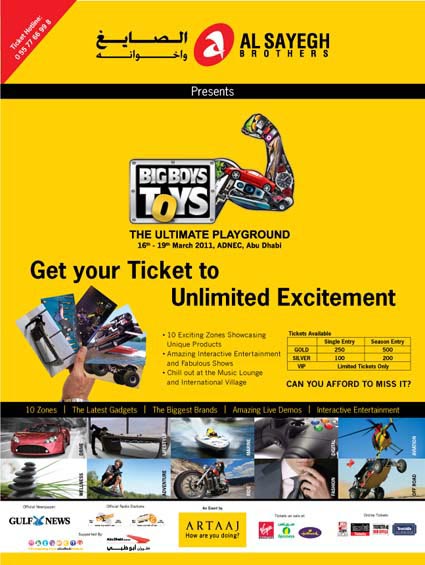 Tickets for eagerly-awaited Big Boys Toys supershow are now on sale. The event will take place at the Abu Dhabi National Exhibition Centre (ADNEC), 16-19 March 2011. The biggest lifestyle exhibition in Middle East has released multi-category tickets ranging from AED 100 to AED 1000, to cater to different visitor segments from across the region. Expecting more than 60,000 visitors, organizer Artaaj has opened ticket sales at Virgin Megastore, Box Office ME, Hallmark, Spinneys Audio Video, and online at www.boxofficeme.com, www.timeouttickets.com, www.ticketingco.com, and www.ticketingboxoffice.com.
Entry tickets to the 'Big Boys Toys' show are categorised as follows: 'Silver' – single day entry ticket priced at AED 100; 'Gold' – single day 'fast track' entry ticket priced AED 250, with benefits such as 'ahead of the line' provisions at all shows and interactive entertainment and exclusive VIP seating at all shows, Music Lounge and International Village. In addition, season entry tickets are also available, AED 200 for Silver and AED 500 for Gold that allow entry on three days – 17, 18 and 19 March 2011. Entry on 16 March is predominantly on invitation only for members of the royal family and other dignitaries; however, a limited number of VIP tickets priced at AED 1000 is available for this day. All features and shows at the event are free of charge for VIP ticket holders.
The Big Boys Toys exhibition will feature more than 100 exhibitors across 46 exclusive categories highlighting the latest in modern, high-end luxury products to an affluent target audience of 60,000 visitors. The event has been divided into 10 zones: Drive, Ride, Off road, Marine, Aviation, Digital, Lifestyle, Wellness, Fashion and Adventure.
More information on the tickets is available on hotline no.: +971 55 77 66 99 8.