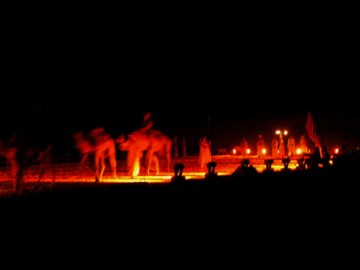 We had the unexpected opportunity to be part of the premiere of Dubai Heritage Vision, a preview show which happened last week in Dubai. We had been contracted by Gerhard Meyer, the artistic director, to assist with realizing his vision of an authentic Bedouin experience as well as to assist with the production of the show. Set amid the dunes, about 30 minutes away from the city, right bang in the middle of no where, we provided for the event 30 extras for stage, 40 costumes, including a few very challenging props (try finding a 1920s camera in Dubai!).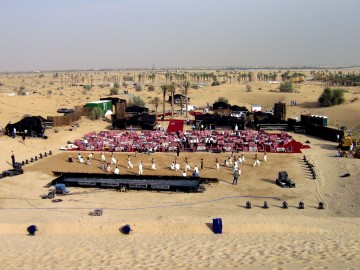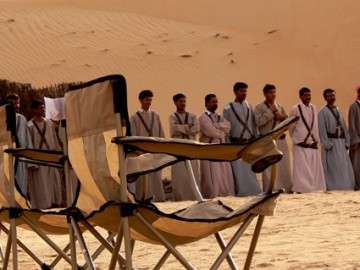 We also organized a Bedouin village with traditional flutist & drummers, a welcome Habban troupe, bread makers, sweet makers, henna painters, belly dancers, camels, goats etc….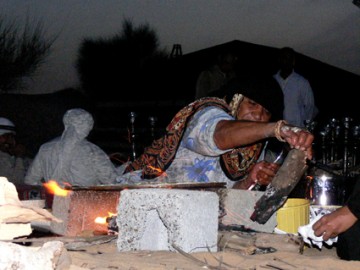 Finally we also supported the event by providing the stage manager, the costumes assistant and backstage assistant.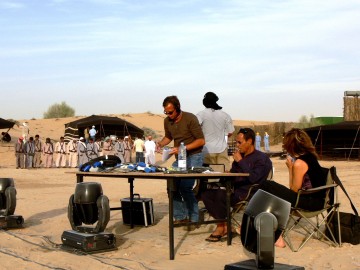 We had a great time working on this project although the weather forecast kept throwing us curves. On the first day, during rehearsals, we had a sand wind blowing strongly forcing us to wear face masks to protect against the sand, then the second day was really hot in the middle of the dunes. 45 degrees for the rehearsal at 2pm has been a real challenge for all the team.
This show took place in an amazing "natural" venue as the arena and stage were only dunes and sand. The guests were 350 cruise clients traveling around GCC for couple of days and spending only 1 night in Dubai.
Gerhard had chosen the famous theme of Lawrence of Arabia to entertain the guests and we had the pleasure to watch the famous dialogues between Peter O'Toole and Omar Shariff enacted live by two very talented guys.
This one off show was a small sampling of what Gerhard is preparing at the purpose built venue. Gerhard has been hired to create "the biggest and most spectacular outdoor show in the world" which will be inaugurated in Dubai next September…..
Easy to imagine how proud we are to have been helpful and involved in this event. The best compliment has been sent by Gerhard himself a couple of days ago as:
"Not only was it a pleasure working with you, I am also very aware of all the extra time and effort you gave to every detail of your responsibilities and the professional conduct of your entire team. You certainly removed a huge load of strain at the right time and I remain very impressed by the special care you took of us. I believe this has paved the way for many more events in the future"
Thanks Gerhard for your trust in us!