Dunkel Industries Luxury 4×4 will be Big Boys Toys 2011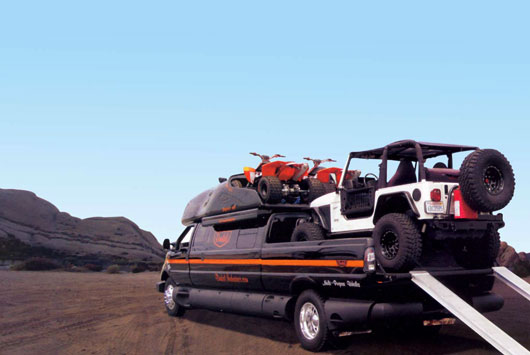 Did you have the urge to hit the untrodden path and stay the course for a few days without returning to 'civilisation'? Now's the time to have the entire home on a single RV and explore the true wilderness without boundaries! The supershow Big Boys Toys is showcasing an off-road monster, a luxury home away from home, an all-terrain vehicle—Dunkel Industries Luxury 4×4. Set your wildest course and say hello to the beast in the show, in ADNEC Abu Dhabi, 16-19 March 2011.
Dunkel Industries, the US based off-road vehicles specialist, designed the luxury RV under Fabco's military grade 4×4 system. The 8.5 feet-wide, 32 feet-long and almost 12-feet-tall monster truck, combines luxury and amazing traction. A custom wood, leather, and fibreglass interior including high quality bed set, kitchen set, and even a family room put to shame any modern living quarter. With a large cargo bed, it can hold a full size car and even dirt bikes or ATVs on the top of it.
The RV, built on a Ford F-650/F-750 chassis, features a 6-speed automatic transmission with a power plant rated at 300 horse power over 800 lb. ft. torque, 5.29 axle ratio with a 12k capacity front axle and 12k front suspension capacity. The Dunkel Industries Luxury 4×4 is an ultimate choice for wanderlusts who need the excitement without having to live rough.