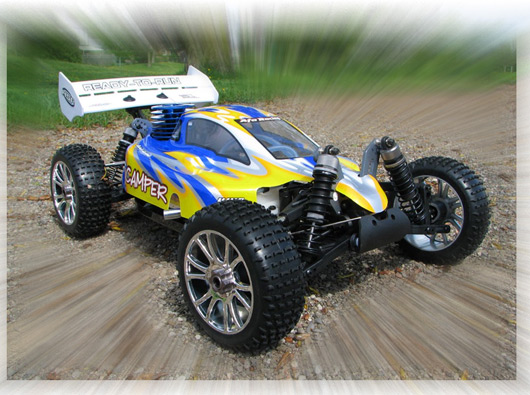 Tarsam Image is a Dubai-based supplier of state of the art gadgets, innovative array of products viz. home decoration and disco equipment, innovative home theatres and portable speakers, electronic and mobile gadgets, unique RC Toys, and Two-wheel and Quad Scooters.
Among the items they would be displaying at Big Boys Toys is the 1:8 scale RC Buggy with a powerful 3.5cc Nitro gas engine, upgraded components, an anodized aluminium chassis, polished aluminium manifold and muffler, which has both looks and sturdiness provided by adjustable heavy duty upgraded shocks for perfect landings. It has a 2.4G radio for longer range, no external interference and no interference from other cars. The intelligent digital radio automatically flicks between different channels so you will never have a car on the same channel.
The Chariot Electric scooter is a model specially designed for more civilized urban life, with large front wheels air filled tyres, designed both for on- and off-road riding; gravel roads or grass fields won't stop it. Dual disk brakes make it extremely safe to stop when riding at top speed. A rider can go forward or reverse. It has a hand throttle that features speed, forward and reverse. The maximum speed is 20 kmph, and range per charge is 40km; charge time is 6-8 hours, and maximum load 115kg.