Artaaj Events worked closely with the Abu Dhabi Media Company's Super Awards for the second year running on their 2009 celebration. Designed for live telecast on the Abu Dhabi Sports Channel, Artaaj were the official event management company for the event.
In the presence of His Highness Sheikh Hazza bin Zayed al Nahyan, UAE National Security Advisor and Chairman of the Abu Dhabi Sports Council, Joseph Sepp Blatter, FIFA Chairman, and over 100 dignitaries, regional football players were recognized for their outstanding achievements throughout 2009. Many top personalities from the world of football were also present including Michel Platini, now President of the European Football Association, and Issa Hayat, Chairman of the African Football Association.
The event was held at the Abu Dhabi television studios and Artaaj was presented with the challenge of transforming the location into a venue fit for the invited VIPs. During the consultation process, we started off with photos of the area, and our design team then painstakingly recreated the venue in 3D, adding in various décor elements to illustrate the creative concept for the client. The final evening saw the space come alive with branded flags, moonlights, lighting beams and gobo effects.
As guests entered, they were treated to a traditional Emirati welcome with live Ayala and Khaleeji performances – an institution at all state and VIP functions.
The transition from outdoor to an indoor pre-function area was via a grand entrance tunnel which was draped in fabric embedded with tiny LED lights, giving off the effect of a starry sky, leading into a fog curtain highlighting the Super Awards logo. An amusing interactive football game was also projected on the floor of the tunnel, engaging guests as they passed through. The indoor reception area was set up within the studio for guests to mingle prior to the live broadcast. With walls awash with changing colors, and ceiling dressed with whimsical suspended assorted spheres, a live violinist set the gala ambience.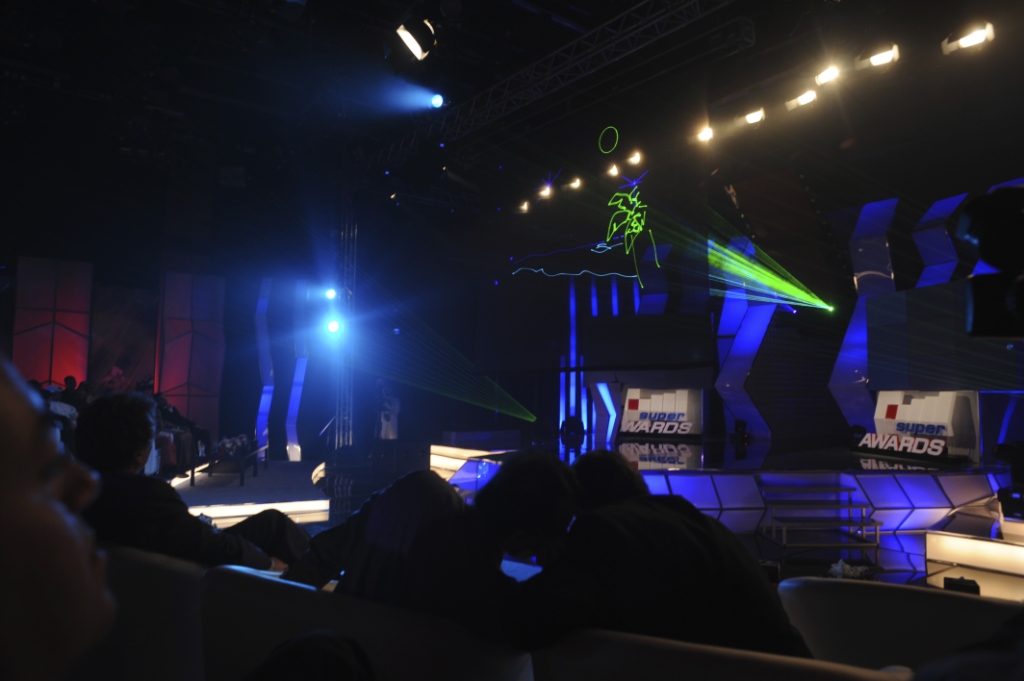 The main event kicked off with a light and laser performance to unveil the Super Awards celebrations and as proceedings went on guests were entertained with a mix of video and laser shows all specifically designed to highlight Abu Dhabi as the Capital of Sport.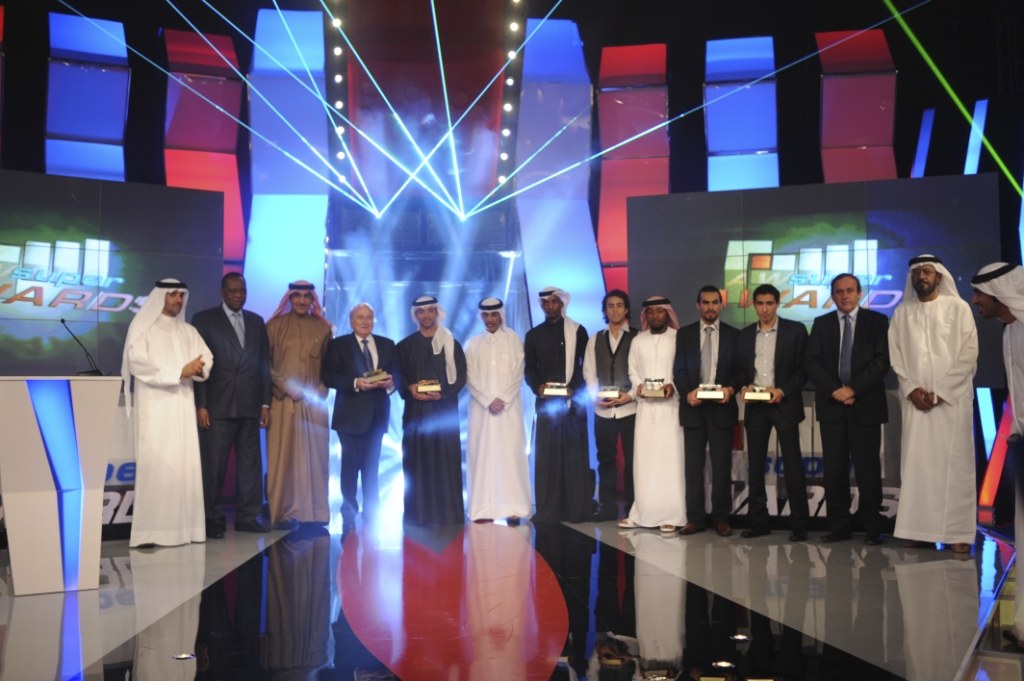 Special recognition was given to Sepp Blatter for his contribution to football over the years when HH Sheikh Hazza presented him with a gold trophy designed by Artaaj. HH Sheikh Hazza was also given special tribute via a laser show highlighting all the work he has done during the year to promote sporting affairs in the UAE.