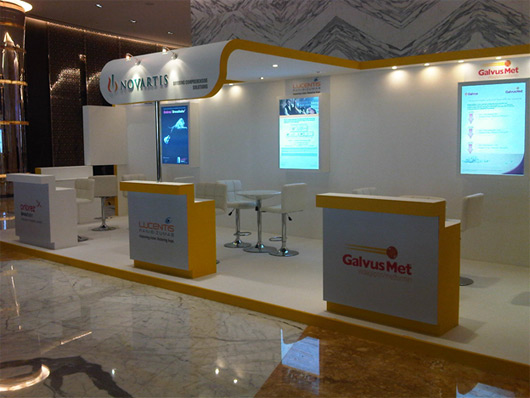 Extending our penetration into the Pharma sector, Artaaj is proud to be associated with Novartis Pharma – the Diamond sponsors for the 1st Annual SKMC International Conference – Advances in Medicine & Subspecialities (AIMS 2013) – held from 13th to 15th Feb 2013 at the new destination of Abu Dhabi – Jumeirah Etihad Towers.
The project saw Artaaj designing, fabricating & delivering a 9mX3m exhibition booth within 4 working days, involving coordination and approvals from 5 different departments within Novartis.
The client's team of Brand Managers was a pleasure to work with and the project would not have been successful without their constant support and prompt clarifications – something not easy to come by.
Kudos to the Novartis team!
Artaaj looks forward to making this great start of 2013 into a good working year with Novartis.