Palm Marine

The event management business is sometimes an odd one indeed! Projects throw you a curve ball at times and the Palm Marine one was some "doozy" all right! In a life full of last minute projects, I give full marks to the Palm Marine team for planning this event. Participating in one of the biggest stands at the Dubai International Boat Show 2006, we were approached to create and manage their participation about 3-4 months in advance.
First steps were of course designing and creating a classy stand that would stand out at the show. Artaaj also consulted & created invitations, branding, promotional give aways, hostesses, decoration and logistics. And so we ploughed on planning and creating, helped to a large extent by our stand builders, they were a god send!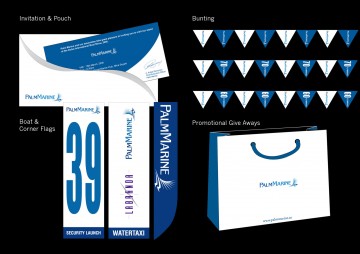 You must realize, however, the boat show means that we're actually exhibiting boats. The show was held at the Dubai International Marine Club with both a marina facility and a land display where we were situated. And not just any boats, the biggest ones on display, and let me tell you, they were huge. We had boats up to 54 feet in length and more than 15 feet in height, a grand total of 5 beauties to be displayed on site.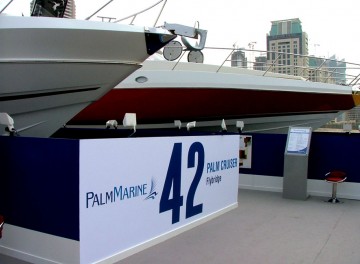 Needless to say the logistics were an area where we were most challenged, and learnt the most as well. For example, did you know that boats can either be towed on trailers which they are hitched to or in the absence of which they have to be loaded on to a truck which will carry them? Sounds simple enough, but watching the entire drama unfold in front of my eyes had me gobsmacked!
The process of loading and unloading a boat is quite majestic. I say that because for about 48 hours straight, our team, in conjunction with the Palm Marine engineers, oversaw a 120 ton crane gingerly lift and load boats on to trailers, trucks, drive them slowly, oh so slowly through the roads of Dubai, escorted by the police, crane them off, and precariously maneuvere and position them on site so that the stand could be built around. Hats off here to Helen from DIBS and DWTC – thank you for your patience with us, we know we tried it, and gracefully, under fire, you held it together through it all!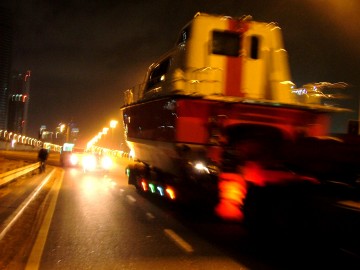 Finally, we were ready to build, and thankfully, with a lot of support from our suppliers, we turned around the entire construction and build up in exactly 24 hours. Quite a feat, I say, carpets to be laid, cladding and branding around the boats, plasmas and DVDs to be hooked up, lighting, flags and the final finishing touch – flowers, flowers, and more flowers.
Finally, it was time for the inauguration and the boat show went on for about 5 days. We had personnel on site on a daily basis, servicing the stand, replenishing gifts and assisting the Palm Marine staff with their day-to-day requirements. Our stand also bravely faced the elements one stormy day where the wind rattled and shook us and the rain seeped into our electricals – but after sparky fiddling with the systems, we were set and ready again!
I can say without reservation that we were the best dressed exhibition stand at the boat show, largely due to our clients' vision, and our dedication to delivering things just so! After wrapping up and having the boats safely back in the Jebel Ali docks, we're now looking forward to DIBS 2007. Its gonna be just fabulous!