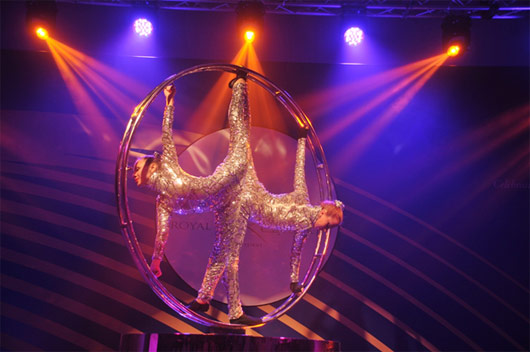 Artaaj was commissioned by Royal Jet to organize a turn-key event to celebrate their 10th Anniversary. Royal Jet is an award-winning international luxury flight services provider headquartered in Abu Dhabi, the capital of the United Arab Emirates (UAE). It is jointly owned by Abu Dhabi Aviation and the Presidential Flight Authority, the royal flight service.
The event was celebrated at Park Hyatt Saadiyat Island Abu Dhabi on the 8th of May, 2013 and was attended by 260 employees of Royal Jet.
In the pre-function area a huge time line wall was created along with a message board. An exclusive area was dedicated for taking pictures using props and a cut out, which was well attended by the guests. While people waited, they were entertained by various music arrangements by a live violin player.
The company also took the opportunity to launch and unveil their new logo as well as awarded long service employees. A grand stage design of a spinning logo in the middle and an animation of the five branding elements on screens was the highlight of the evening.
The reveal started with a one minute video edit of the 14 awardees leaving the company's head office and continued with live feed of the employees as they made their way into the ballroom. The awardees got a standing ovation from the guests in the ballroom as they walked on to stage to hand over the IPAD to the CEO who then revealed the new logo. The awardees received their awards during the same segment.
Artaaj successfully organized the registration, technical production, sound and light for the evening, arranged the entertainment and the reveal sequence.