This past week we were commissioned by the Modern Refreshment Company, division of Masafi, the leaders in bottled mineral water to conduct sampling for Magic energy drink.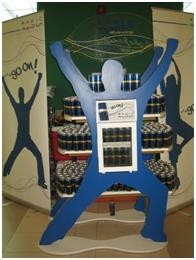 Sampling was conducted across different locations in Dubai like Dubai Festival City, Carrefour, Geant, Emarat Petrol Station, various beaches and parks. Promoters in branded wear approached consumers and invited them to branded table stands setup. Chilled cans were also handed out to the consumers.
Artaaj ran the entire campaign, look after logistics, government and outlet permissions, promoter training, data collection and report submissions.