Artaaj Events were delighted to be asked to design and fabricate an exhibition stand and reception desks on behalf of our client Dubai Customs. The stands were part of the World Customs Organization conference. The conference was hosted by the U.A.E. for the first time and was held at the Atlantis Palm Hotel.
In addition to the exhibition stand, Artaaj also designed 2 bespoke reception desks which were located at terminals 1 & 3 at Dubai International Airport. The reception desks were the first point of contact for international delegates arriving to the U.A.E.
A contemporary design was created for both the reception desks and the exhibition stand in keeping with the nature of the conference.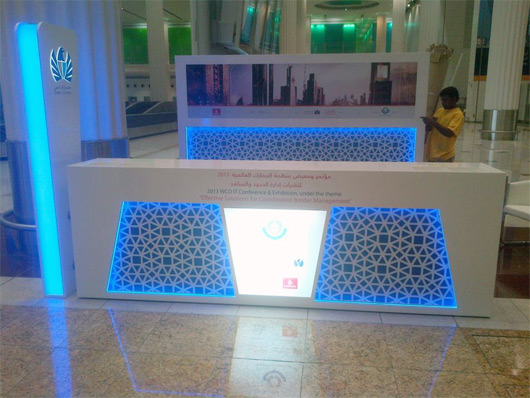 Reception Desks at Dubai International Airport
The exhibition stand located at the Atlantis Palm Hotel