Say Goodbye to the Single Life!
At Artaaj, we love to find any occasions to break out the decorations or cake! Last Thursday however saw us take our celebrations for a major milestone for a much loved colleague out of the office and into the night.
Arafat Usman, also known as AU, is to tie the knot with his bride-to-be in March in Pakistan and as such, required from his faithful Artaaj team, a bachelor party never to be forgotten. The boys kindly extended the invitation to the gals of the company – that's just the sweet things they are – and let's face it, we had the best ideas to torture the man (thanks Tas!).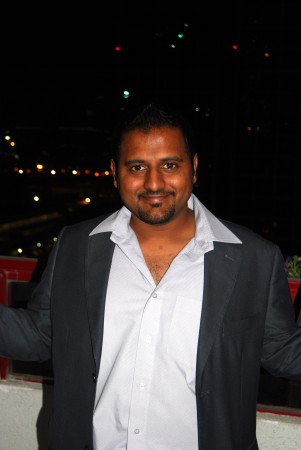 Our CEO Biju, as always, offered his home as a venue and the arrangements were quickly made. Artaaj staff were greeted by a professional photographer that captured the evening, a great buffet spread out for all, two incredibly happy and obliging barmen and a rockin' DJ breaking out the tunes for us all. Being a welcoming family company, spouses, partners, friends and children were all included – well at least until a certain hour for the kiddies.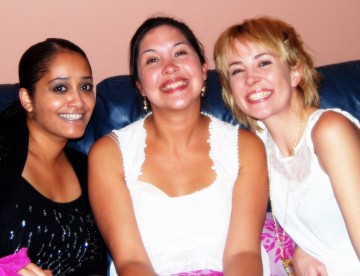 Needless to say, as the rooms started fill, Punishment Time for the groom-to-be arrived. While not to give too much away, props involved in the affliction involved a large knife, gaffer tape, much rope, oil, shaving cream, toothpaste, eggs, flour and the streets of Dubai! It must be mentioned that many of the ideas our cruel minds conjured up in the days preceding were scaled down. We did, after all, want him to make the flight and not miss the BIG DAY (very lucky Arafat!).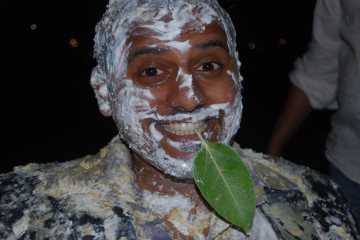 Arafat, as always was a true sport – his big wide smile protruding from the mess we covered him in. A not-so-quick shower was needed to sort him out and get him back onto the dance floor for his John Travolta moves. Yep – let's face it, you couldn't keep that guy single for long!
Unfortunately for Tas, the cruelest mastermind and organizer behind the plot, revenge and karma came back….and another bunch of towels please….
While the good looking, charming, lovely, intelligent, yet still single women of Dubai mourn the loss of another good man, we are so happy for Arafat, and his bride-to-be couldn't have found a better sort!
Thanks to all who organized the party and to Biju for providing the venue.
Arafat, everyone at Artaaj wishes you the most wonderful day. We all wish we could be there. Make us proud and bring back all the photos…and the bride 
And Ray….watch out…you're next….