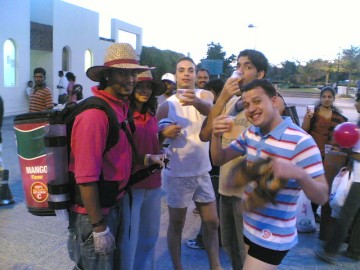 Visitors at parks in Dubai this month were delighted when they were greeted by Tang Mango samplers dressed in Tang gear. Tang has launched a new taste of their mango flavour. The new mango is different from the previous one, in that the taste is of the Asian mango which is more sweet.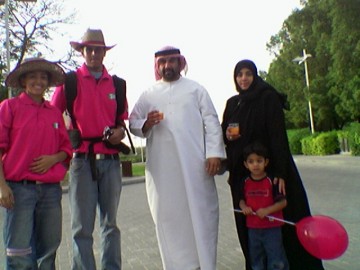 Our team was present at the Creek park, Zabeel park as well as Mamzar park. The sampling was conducted over a weekend period to take advantage of the high traffic during that time. We procured the relevant permissions from the parks and the government departments. We also selected and trained the samplers. Our logistics team prepared the samples and delivered to the parks. Mango pink balloons with the Tang logo were printed and handed to children at the parks.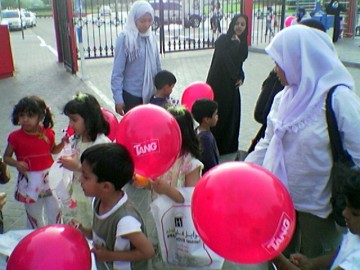 Park Fact File
More than 4.7 million visitors visited Dubai's eight major public parks, including Safa, Mamzar, Jumeirah Beach, Mushrif, Dubai Creek and Rashidiya parks last year. Of this, 2.8 million people visited the five major parks during the year. (Gulf News 3 Jan 2006)
1) Creek Park
This park was opened in 1994 and gets it's name from the fact that it is located on the bank of the Dubai Creek. With a large area of 95 hectares, Creek Park is the second largest park in Dubai. It is recognized due to it's strategic location and recreational. The park has five entrances, four berths so that visitors can access the park via touring boats and it also has three heli-pads.
2) Zabeel Park
With an overall area of 47.5 hectares this park has been designed with a technology theme. Zabeel Park provides a themed recreation and leisure facility of international standard. A series of high tech interactive displays including educational and recreational exhibits grouped into three zones (Alternative Energy zone, Communications zone and Techno zone) are present. A maze modeled on the planetary system and other technology based attractions form an integral part of this park.
3) Mamzar Park
Covers an area of 106 hectares and offers barbeque sites, private chalets for hire, swimming pool, food kiosks, sheltered beach and lagoon. The park also has a scenic train as well as children playing areas. It is located approximately 5 km after the turn off to Hamriya Port.