When the Acuvue® brand from the house of Johnson and Johnson decided that they want to meet with consumers across the GCC, they contacted your favourite promotion specialists!
With a flurry of activities the outreach was finally planned and the first consumers were greeted in Qatar.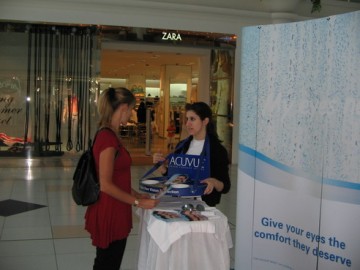 Our consultants invited shoppers at the mall to the Acuvue® stand and handed out product leaflets. They encouraged consumers to feel the lenses to check for themselves how soft and comfortable the lenses really were.
Consumers were then directed to the optical store in the mall to get a customized fitting and free trial. A report of the people contacted and their comments was put together for the client to measure the success of the outreach.
Here we take a quick look at how the programme was managed behind the scenes. The following is a brief excerpt of the conversation that ensued to put the program on track:
Sanjith: So in how many markets are we conducting this outreach ?
Kiran: Just Qatar for now!
Sanjith: Okay we need to get the creative in place.. can you get the images from the client ?
Kiran: Get rid of the model in the background, we need to use the same backdrop in Saudi
Visualizer: If the model goes the background becomes really plain, we have to think of another idea!
Sanjith: Well we have less than 2 days to ship this..
Arafat: I've spoken with Osama (our Qatar partner) he's negotiating with the malls to book space for the
program. He is also getting ready to train the promoters.
Kiran: Client's representative is flying to Qatar to conduct the training
Trring! Phone rings..
Kiran: Oh so we have to start Bahrain as well?
Ajeena: No worries I'll contact Sunita (our partner in Bahrain), we'll organize this and get the show on the road.
Four days later…
Arafat: Great, the reports and photos have arrived from Qatar. It has been a success!
Sanjith: Get ready to move to Abu Dhabi
Kiran: Home ground – Dubai is next!
Ashifa: We'll get the promoters in earlier for a casting session
Kiran: Next week will be Kuwait – right before we move to KSA!