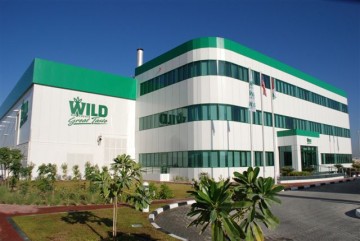 WILD Flavors ME FZE, the largest privately owned global supplier of natural flavor ingredients for the F&B industry, commissioned Artaaj Events to conduct the opening of their brand new Dh 100 million production unit at Jebel Ali Free Zone. The plant was inaugurated by WILD chairman, Dr. Hans-Peter Wild and DP World chairman, Sultan Ahmed bin Sulayem.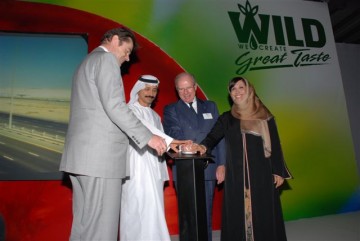 The entire warehouse was draped and converted into a green zone. The corporate colors of our client are white and green and therefore we used these two colors as much as possible. Hostesses were wearing white and green costumes, flower arrangements were put together in these colors, the specially made drinks by WILD were green and even the tasting stations were lit in green to make it complete.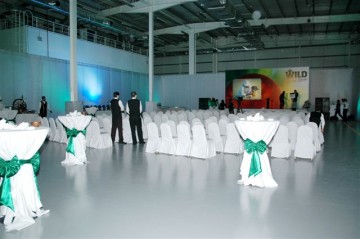 The entire production was stopped for 3 days for our events team, so that we could convert the place from a warehouse to a nice place for the expected guests, who were flying in from the entire GGC region, Europe and the US to show their presence at this special day.
The following day our team organized a private desert safari for around 40 specially invited guests to join Dr. Wild and his family for a special and typical day out in this part of the world. Ten 4×4 drives took them into the desert for some fun in the dunes and into a little wonderland, a very special tiny little desert camp arranged especially for such occasions. The WILD camp looked just incredible and was for sure not one of those camps, that every tourist will be able to visit. A rose water welcome, special catering and perfect treatment were top priorities in order to make this day really special even for those who went on a desert safari before. There is nothing more to say that mission accomplished!!