Dubai Art Season 2015 has indeed been a challenge in its own self spread over a period of a month and a half of various arts initiatives throughout the city. Artaaj has been commissioned to manage the logistics for various installations at different art fairs across Dubai in collaboration with the esteemed venue partners- Meraas, Emaar, Dubai Airports, Mall of Emirates, D3, DIFC and the DWTC.
From Ebru artist, Pan artist and the Pipe artist entertaining Dubai, Artists Maysoon masalha and Andrew-del-rasario added on creativity to the season by installing the Cone Art, Telescope at Dubai Airports and Box park respectively.
The team has also been assisting the Dubai Culture & Arts Authority for designing and producing all branding collaterals for the Art Season.
Since we are in the 4th week of the Dubai Art Season, next coming up is our EXPO BOOTH at the World famous COMICON (from the 9- 11th April )in collaboration with EXPO 2020 team and 3D warp structure ( 10- 30th April )at ' The Beach' opposite JBR walk.
Here's a glimpse of what's happened so far:
Sherif El-Moghazy, the Hand Pan Artist (Music from Steel)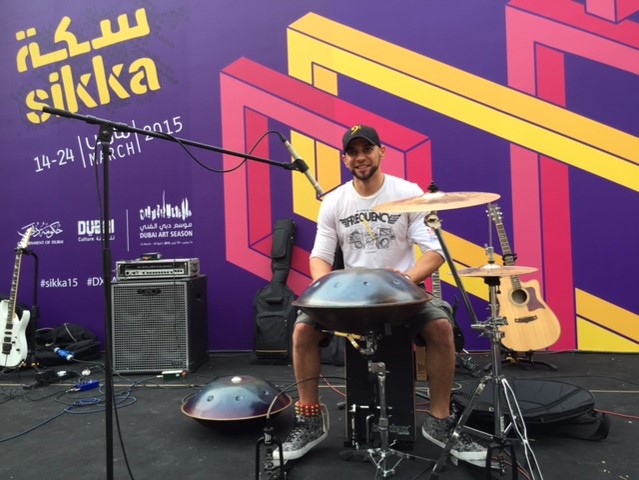 Sherif El-Moghazy performed at Sikka 20th and 21th of March
Furthermore, he is performing at  Meraas
BOXPARK 3th-4th of April
CITY WALK 10th-11th of April
THE BEACH 17th-18th of April
And again at the BOXPARK 24th-25th of April
Sherif who is originally from Egypt fast became the premier Hand Pan player in the Arab World. Hand Pan is the newest musical instrument
introduced to the world. It was invented in 2001 in Switzerland. The instrument and its beautiful vibrations have a way of capturing the
hearts. It has an ancient yet familiar sound. The sound is captivating and mesmerizing. Sherif has dedicated his life to the exploration of this instrument. It has become the primary tool of expression.
Gartip Ay – The water Artist: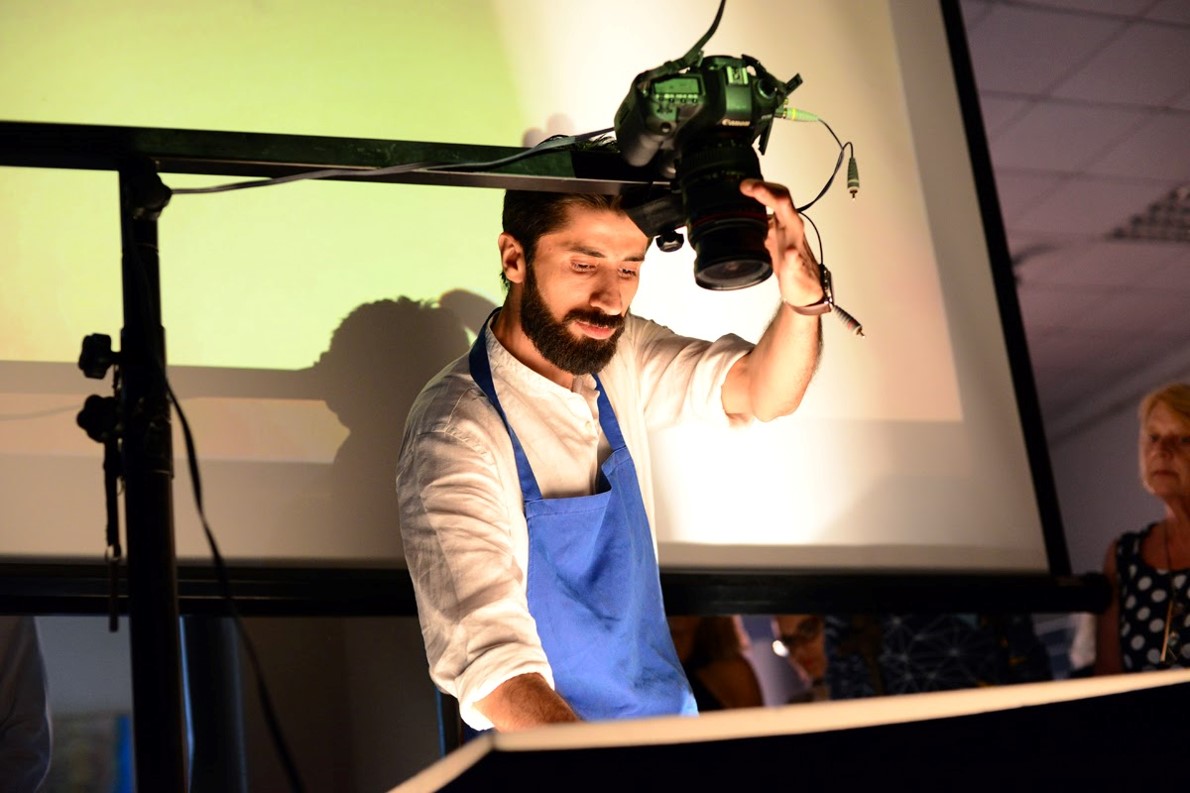 Gartip Ay performed at Mall of the Emirates 17th March at DIFC furthermore he performed the 18th of March-31th of March at Mall of the Emirates.
Garip Ay was born in 1984 in Siirt (Turkey), began his arts education in the painting department of the High School of Fine Arts in Diyarbakir in 2000 and then he graduated with a degree in Traditional Turkish Arts from Mimar Sinan University inIstanbul. In his work as an Ebru artist, Mr. Ay has held numerous exhibitions, workshops and seminars around the world, from
his native Turkey and the Persian Gulf region to Scandinavia, Russia and the USA. He has also taken part in various film projects, like 180-part TV documentary series, music and concert videos, and public. The artist still continues his works in his studio in Istanbul.
Painting created by Garip Ay live at Mall of the Emirates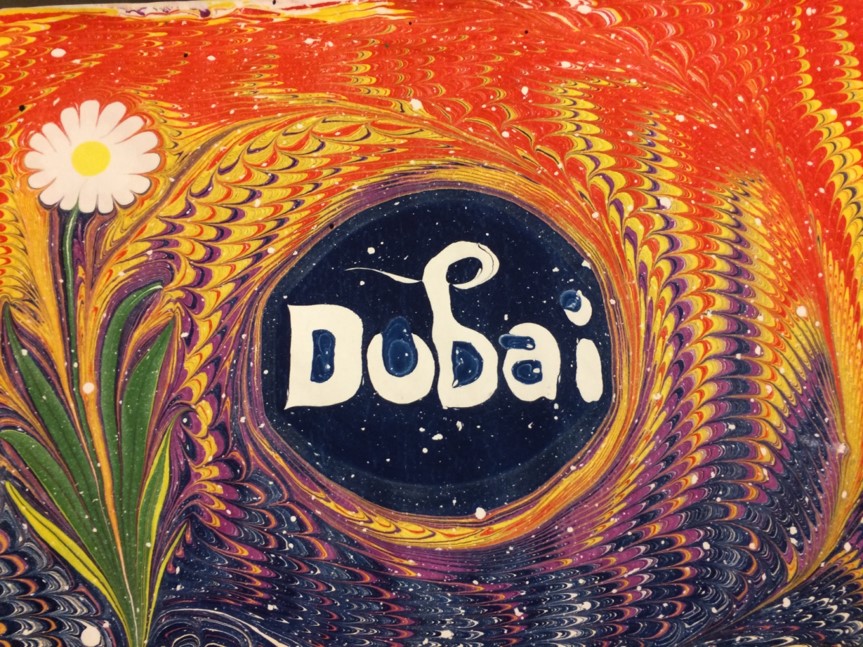 All the guests at Mall of the Emirates are more than welcome to try to create their own art: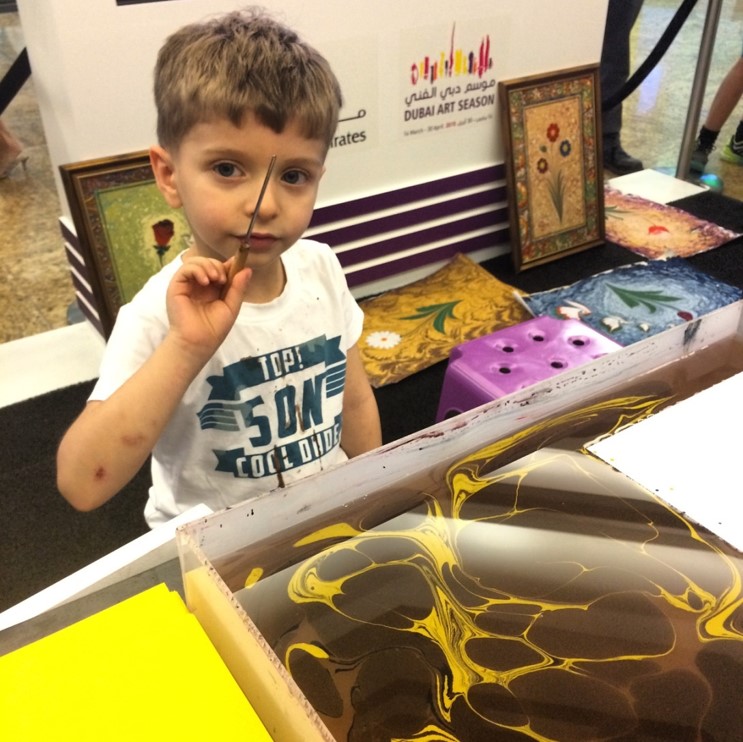 Garip Ay's live performance at Mall of the Emirates
Jake Clark, Pipe Guy: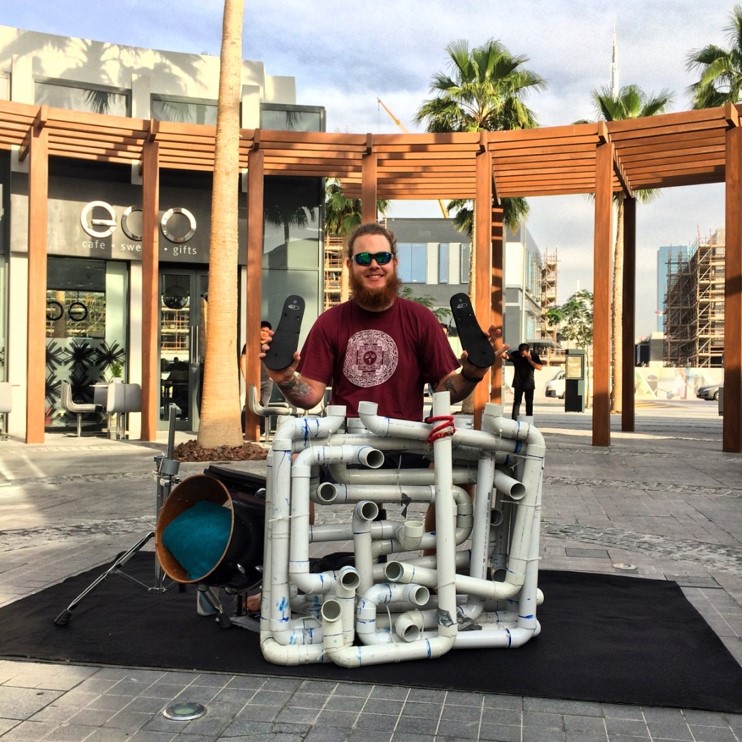 Jake Clark performed at the Meraas CITY WALK 24th-25th of March.
Furthermore, he will perform the 26th-29th of March at the BOXPARK The Beach 30th of March-1th of April, 2th of April at D3.
Pipe Guy is an Adelaide based multi-instrumentalist, most famous for playing his home made PVC pipe instrument that he plays with a pair of thongs. His music has been described as an acoustic version of contemporary electronic dance music. His biggest influences are Blue Man Group, Sunn 0))) and Amon Tobin. You can usually find him entertaining crowds in Rundle Mall during the week or tearing it up for Hindley Streets nightlife on the weekends. Pipe guy was never at any time a plumber – don't ask him about it.
Jake Clark and Garip Ay came for a visit at the Artaaj office: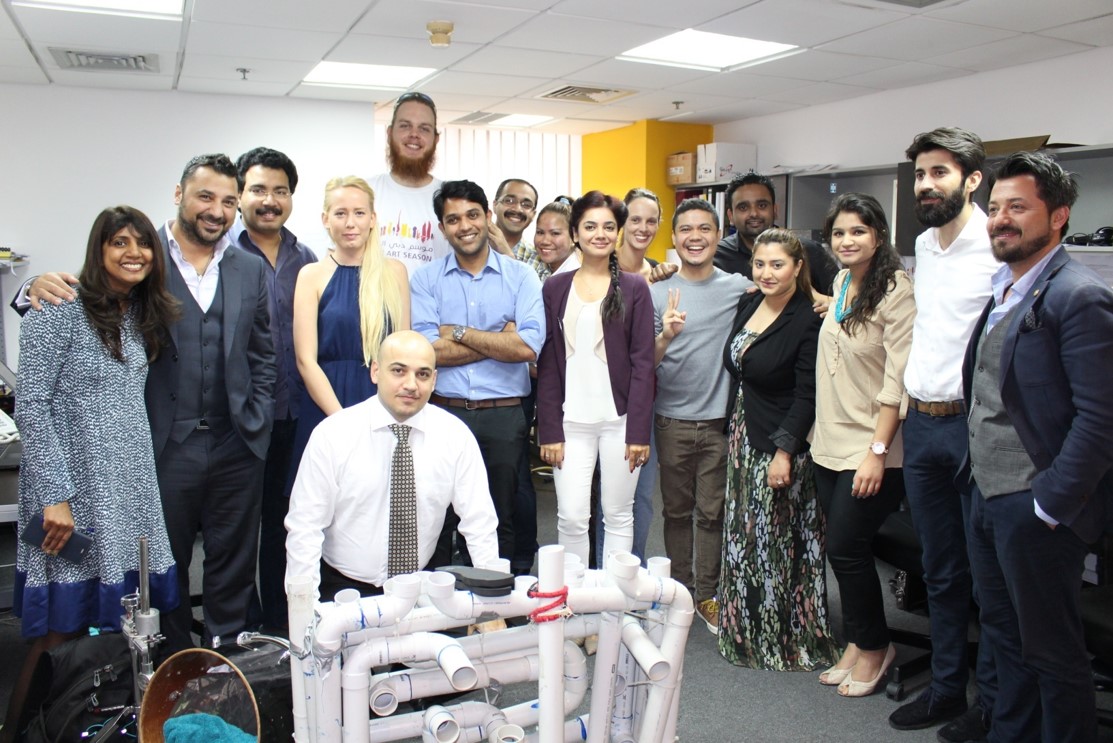 Andrew Del Rasario :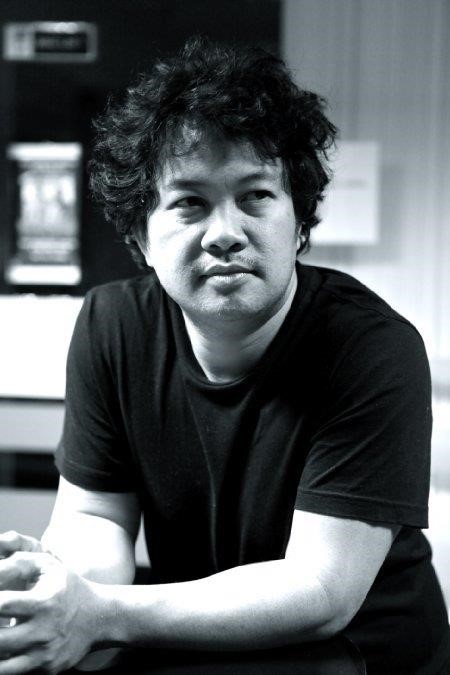 Andrew has a distinguished career as production Designer and Art director and has worked with many international clients. After moving to Dubai in 1992, he continued his artistic talents first working as a window display artist for well-known fashion & cosmetic brands such as Yves St Laurent, Lancome & Estee Lauder and then moved on to building and designing sets for TVCs and events. With his passion for art, he now works alongside well known Directors from overseas and locally from which he gained a reputation for being the best in his field in the Middle East. Well sort after in the Production Industry, Andrew was invited to work on his first feature film, Syriana filmed in Dubai. Since then, Andrew has worked on a number of short films, television series, editorial, events and music videos both in Dubai and in Toronto. Whilst Andrew is now based in Toronto, specializing In Production Design, Art Direction, Set Decoration.
Art created by Andrew Del Rasario at the Meraas BOXPARK 25th March- 30th of April