Happy New Year to all our dear clients, friends and anyone else who's browsed their way on to our blog!!
Settling into 2007, and we've just noticed that our last blog entry was on the 18th of December….for good reason, too! The last fortnight of 2006 saw Artaaj Events handling a record number of projects simultaneously. With events catering to audiences of upto 2000 people, we worked with premium companies such as DAFZA, Rochas/Watermelon, Uptown Mirdiff, Chalhoub, Etihad Airways, Rakeen/Bates Pan Gulf, Gulf News, Sung Won/Bates Pangulf, DIFF/Al Sahra, One TV/Al Sahra, Omniyat Properties, Trident Properties, Tameer, Motorola/TBWA, Wyeth Pharmaceuticals, Kraft, Black & Decker, Showtime, British Airways…..leaves one gasping for breath!
Each project has been varied from the other. In one, we celebrated 10 years of the Dubai Airport Free Zone, organizing a fabulous "gala" event with a glittering stage and fabulous performances. It was a fun filled event honoring the achievements of DAFZA staff, with games and prizes galore! We also hosted a traditional UAE troupe known as Al Yooleh, young children dancing and twirling sticks to some traditional Arabic music.
Our favorite acrobat, Jens made an appearance with his aerial feats. A big shout out to Denise Reiger of the Grand Hyatt who supported and helped us through out the event!
In another, Artaaj Events were the appointed event organizers for Union Properties as they held a special two day event to inaugurate Uptown Mirdiff, a mixed-use commercial and residential development. A street carnival-themed celebration, the event featured street performers, quiz competitions, karaoke, games and workshops for adults and children.
The retailers contributed some fantastic prizes, and the stage was lit up through out the event with giveaways, almost every minute!! Apart from some great audience participation (a certain belly dance feature at the dance competition comes to mind!) we flew in special pyrotechnic performers from Australia, who performed a dazzling finale at the end of each day.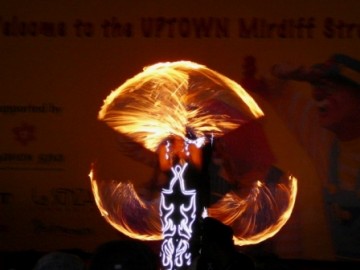 A third one was the launch of Rakeen, Ras Al Khaimah's newest property developer, where we custom built an event on a new island!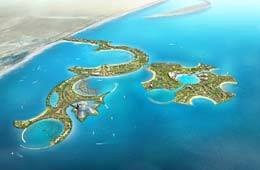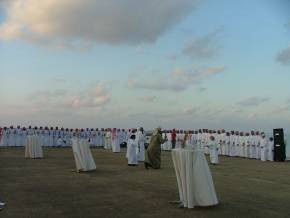 That's right, Rakeen's first development, Marjan Island was the site for the corporate launch of the company where senior government officials and special guests gathered to commemorate the opening, headed by HH Shaikh Saud bin Saqr Al Qasimi, Ras Al Khaimah Crown Prince and Deputy Ruler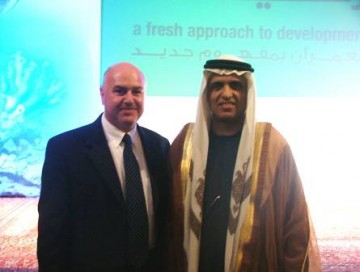 Another was a gala dinner, the closing celebration of the prestigious Dubai International Film Festival, where Artaaj was present to support our client, the Al Sahra Desert Resort by providing entertainment and logistics support, where we managed a record number of people – 200!! The team on site was also in for a night of celebrity spotting and managed to catch a glimpse of their fair share of celebs, Richard Gere being one of them!
Other events handled for Al Sahra was the launch of Dubai One TV's new identity and programming as well as their New Year's Eve bash! >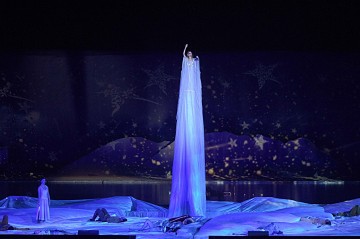 We also launched full swing into a print and radio campaign for the resort with lots of excitement being generated on the airwaves!
A completely different sort of event was a Christmas party for the Chalhoub Group, where we organized a fun fair at the Aviation club, with lots of activities for adults and children alike, culminating with the lighting of a Christmas tree, followed by a trendy party into the wee hours!
And of course, our promotions team was kept well busy organizing hostesses and samplers for our clients, at the various exhibitions and events around town, ensuring all the campaigns were running smoothly as per plan.
As the new year begins, we're now looking forward to 2007 being bigger & better, our team is growing and rearing to go…and it already looks like our event calendar is filling up!! Here's wishing you all a prosperous year ahead!