No sooner had we finished settling the Etisalat Seminar and Award ceremony, we set to producing the launch of Selva International's flagship middle east store, a premier furniture brand from Italy. Poonam from Bates Pan Gulf, our client, was coordinating, and her support was invaluable!! Our inital challenge was to cater for 250 people in a space that would not accommodate more than 50! Yes, it was a showroom, but the furniture, of course, occupied most of the space!! A site visit, however, revealed a delightful parking area at the rear – covered with a trellis laden with lush creepers, providing the ideal setting. A few quick sketches later and a POA was developed. Thanks to the wonderful landlord, and accommodating neighbours, we were given the permission to block out the parking for the day and problem solved!
We set up the showroom with a red carpet entrance, criss crossing sky trackers and architectural lighting that highlighted the new showroom from afar. Two flower stands with decorative ribbon flanked the entrance for the ribbon cutting.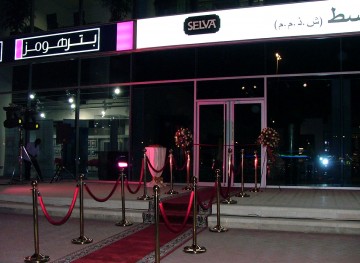 The interior of the showroom was decorated with flowers and votive lights gave the entire space a festive glow.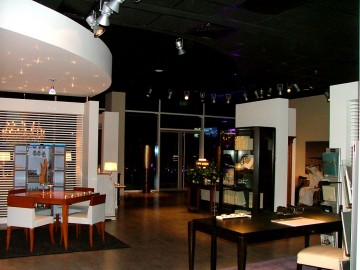 Valet parking was set up for the VIP guests, and the backyard of the showroom was setup with cocktail tables, buffet stations, stages for speeches, lit with fairy lights and colored lighting.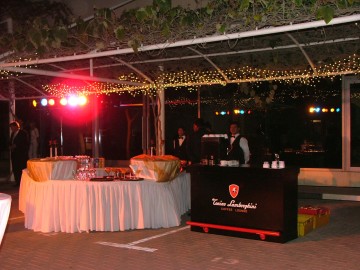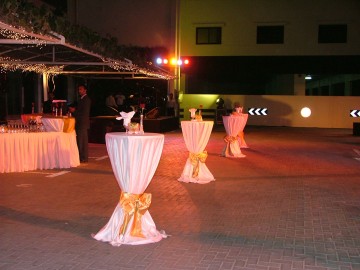 A wonderful pianist and vocalist entertained the audience while we awaited the arrival of the royal party for the official opening. As soon as the ribbon was cut, guests were guided through the showroom and again settled out back for an elegant evening.
As I said earlier, events are a funny business sometimes. April is technically summer in this part of the world, so who would anticipate rain, right? No sooner had we started winding down the party, a cloud burst showered us with rain, and a gust of wind started blowing away! We scurried indoors, thanking the rain gods who had waited patiently for us to that night!