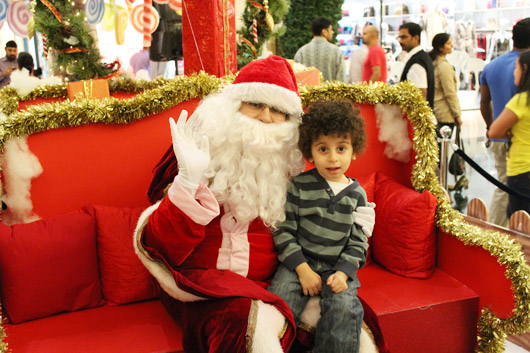 Artaaj was appointed as the turnkey event management agency by Abu Dhabi Mall for their 2011Christmas and Winter Celebrations. Working on the theme of White Christmas, we added colour and verve with larger-than-life lollipops and candies, turning the ambience into that of a Winter Wonderland. The stunner was a gargantuan 15-meter-tall Christmas tree bedecked in gold and red.
The Christmas spirit was further reinforced with a friendly Santa Claus with his trademark sleigh, reindeer and elves. The décor revolved around the Christmas tree with a Candy Arch, Candy Canes and Lollipops, a Candy Tree and a Candy Stage. This overall provided a great photo opportunity for all mall guests and visitors.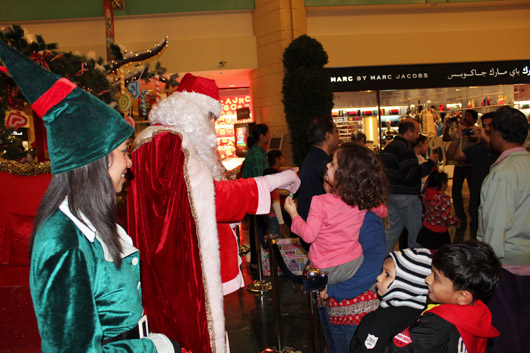 The décor also extended to various locations inside the mall to spread the spirit of Christmas and the advent of the New Year. The ambience was livened up with Christmas carols playing all day through the mall.
The mall sold tickets for the families to receive gifts of their choice from Santa, chosen from the wide range of gifts displayed inside the Santa Hut. The families also sat with Santa on the sleigh and got an instant Polaroid picture taken, to take as a souvenir.
The décor and Santa Claus activities began from 9 December and the Santa Claus fixtures continued until Christmas Eve. The rest of the décor remained to ring in the New Year.