Artaaj was appointed by Xerox Emirates, the Official Printing Partner of Rugby Sevens, to provide a turnkey solution for their sponsorship stand at the Rugby Village. The 3-day Rugby carnival was held at the Rugby Sevens Stadium on Dubai-Al Ain Road, Dec 1-3, 2011.
Artaaj designed and fabricated the stand to seamlessly handle three different activities – Seen at the Sevens, Sumo Wrestling, and a Bubble activity for children.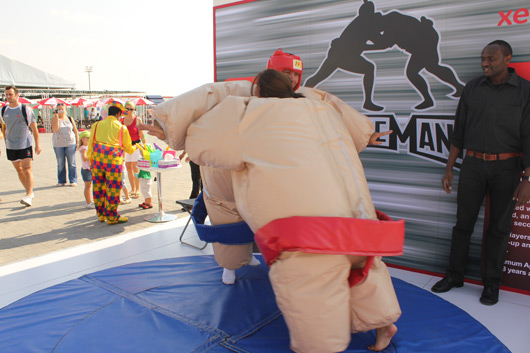 Given the brief that 'Seen at the Sevens' should be the main attraction and the crowd-puller, Artaaj conceptualized and created a 3D floor graphic with the top view of the stadium, which, by the reaction of the visitors was awe-inspiring and almost all had the photos taken peering into the virtual stadium and it did attract the maximum number of visitors!
Sumo Wrestling was another equally popular, fun-filled crowd puller. Groups of friends battled with one another and it was laughter all the way. The winners were awarded a 4GB branded, rugby ball-shaped USB flash drive.
Children, and also many adults, enjoyed the bubble blowing activity. Artaaj also brought in a clown balloon bender who entertained the children with his acts, bubble blowing, and balloon bending.