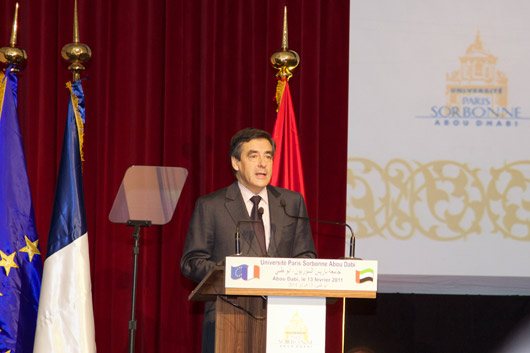 Appointed by the Abu Dhabi Education Council (ADEC), Artaaj organized the Opening Ceremony for the new AED 1.6-billion campus of "Paris-Sorbonne University Abou Dhabi". The ceremony, which took place on 13th February 2011, was graced by His Highness Sheikh Hamed bin Zayed Al Nahyan, Chief of the Abu Dhabi Crown Prince's Court and His Excellency Francois Fillon, Prime Minister of France, as the Guests of Honour.
The new campus, located on Al Reem Island – which features approximately 93,000 m2 of state-of-the-art teaching and recreational facilities, including accommodation for students, a library that boasts of 200,000 books, and a 700-seat auditorium – brings  to life the shared vision of General Sheikh Mohammad Bin Zayed Al Nahyan, Crown Prince of Abu Dhabi and Deputy Supreme Commander of the UAE Armed Forces, and that of the French Government.
Artaaj was given turn-key management responsibility for the event, right from conceptualizing the theme of the event, to designing all communication, invitation management, VIP guest management, to media arrangements, event capture, entertainment and F&B. One of the highlights of the event was the specially-designed book on an elegant plaque which was signed by the Guests of Honour and placed at the University Library as a memorabile. Artaaj also conceptualized and produced the gift presented by His Highness Sheikh Hamed bin Zayed Al Nahyan to His Excellency Francois Fillon – a gold plated 3D replica of the university campus. The event also featured state-of-the-art Watchout technology backdrop screen for the stage, giant size LED TV screen for live feed, an Arabic Jazz Band, etc., to name a few.
The ceremony started off at the Auditorium of the university with addresses delivered by the Director General of ADEC and the President of Sorbonne, Paris. The key-note speech was then delivered by His Excellency Francois Fillon. The Guests of Honour then proceeded to the Atrium to place their signatures on the Book which signified the 'launch moment' followed by exchange of mementos. This was followed by the guests taking a campus tour. F&B and ambience entertainment continued thereafter for all guests and dignitaries.